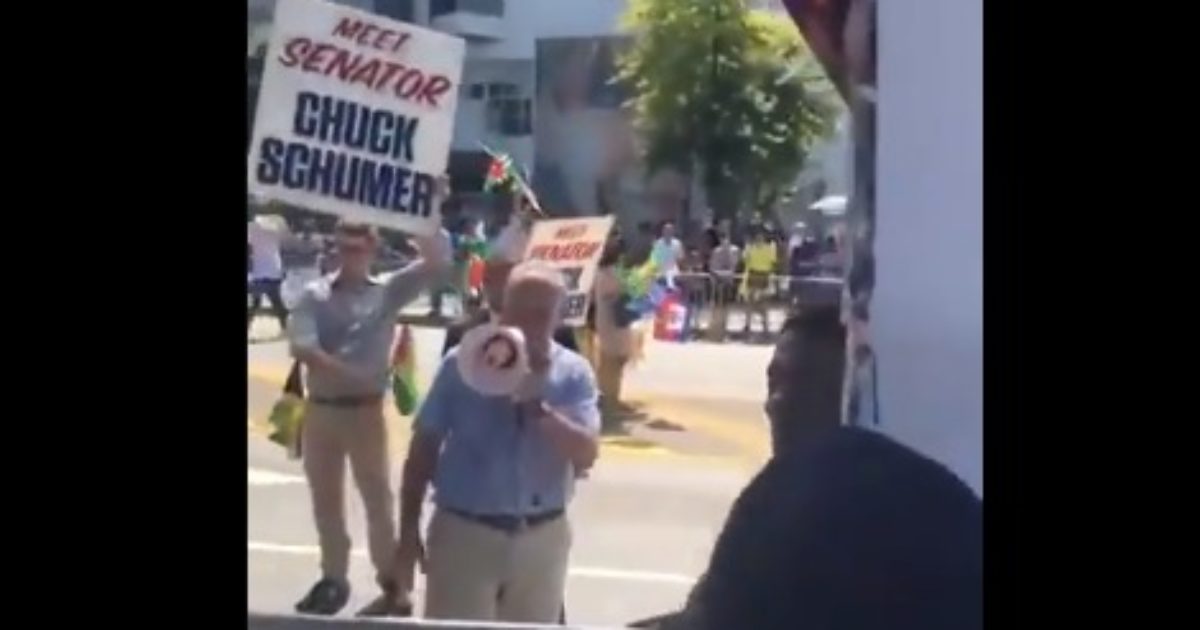 Senate Minority Leader Chuck Schumer seems to have been caught with his mouth in his foot. What he said when asked about impeaching President Donald Trump is what most conservatives already believe is the Democratic Party's main goal is in winning in November. The Schumer staff is already doing damage control and trying to cast the question and answer as a misunderstanding. Will that help them keep their control over independents?
Retweet Dem Dude to @ChuckSchumer: "When y'all goin' to impeach #Trump?"

"The sooner the better," Schumer quickly replies.

Dem Dude counters: "The sooner the better? That's not answering the question."

Trending: More Dirt On Adam Schiff Emerges

"We gotta get a few Republicans," Schumer shouts. "Dems are on your side." pic.twitter.com/s22MnWy5So

take our poll - story continues below

Do you think Cubans are fighting for healthcare or freedom from Communism?

Completing this poll grants you access to Great American Republic updates free of charge. You may opt out at anytime. You also agree to this site's Privacy Policy and Terms of Use.

— Oliver McGee PhD MBA (@OliverMcGee) September 5, 2018
As Written and Reported By Christopher Caldelago for POLITICO:
Republicans close to President Donald Trump have been looking for ways to make the case to midterm voters that Democrats are hellbent on pushing for impeachment if they win control of Congress.

A new video of Senate Minority Leader Chuck Schumer appears to give them what they've sought. On Tuesday, the president's allies began circulating a YouTube clip of the New York Democrat responding to a question from the crowd about when Trump would be impeached.

"The sooner the better," Schumer replied, speaking through a bullhorn to amplify his answer. Pressed about when, the senator added: "We got to get a few Republicans. The Democrats are on your side."

Strategists and advisers close to Trump have tried to rally their base by suggesting that Democrats are hiding their true intentions from voters in hopes of defeating Republicans in November.

"After months of Democrat Leadership pretending that their ultimate goal wasn't to impeach President Trump, Chuck Schumer just tore the mask off of his parties anti-Trump radicalism," said former White House aide Andy Surabian, now a Republican strategist. "If it wasn't clear before, it should be clear now: Schumer and Pelosi's end goal is to impeach this President and that's why it's vital for……..
WAIT! THERE IS MORE. KEEP READING AT THE LINK BELOW:
Trump allies delight in video of Schumer appearing to endorse impeachment – POLITICO