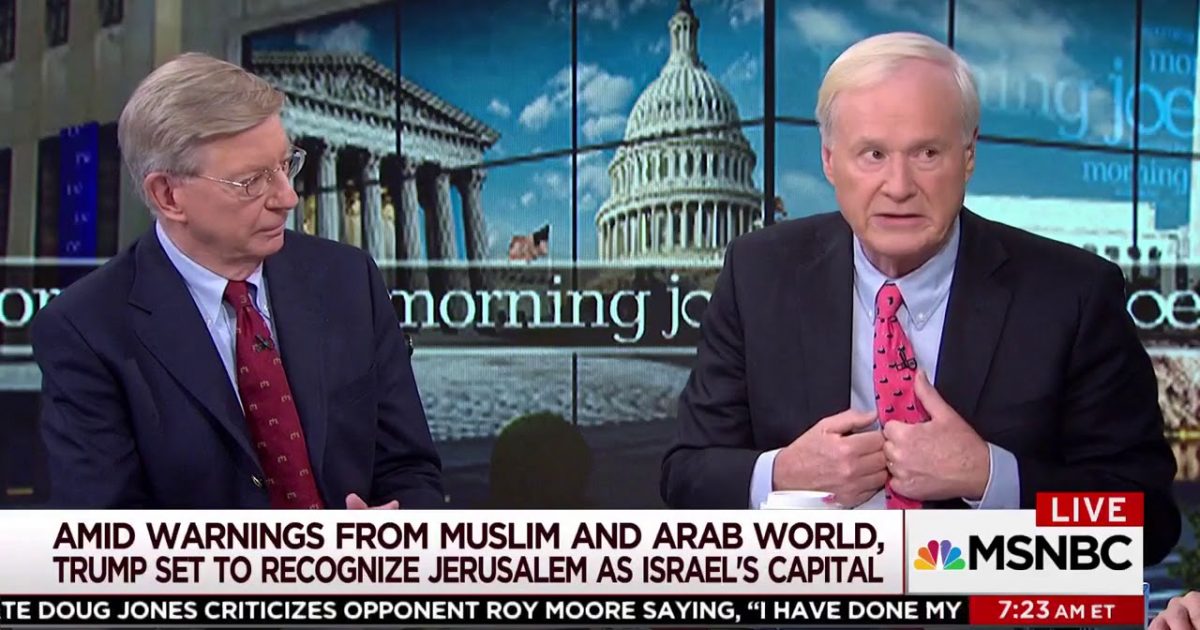 [VIDEO] This article will start with an official trigger warning because MSNBC's Chris Matthews will piss off most conservatives just by moving his lips. In this video, the subject is that President Donald Trump will recognize Jerusalem as the Capital of Israel. 
Chris Matthews does not have a very high opinion of Christians. He does not think that we know what is at stake with this move by the president. He thinks that Christians operate in some sort of mystical la-la land and do not belong in the national discourse. Only Chris Matthews is correct in his assessments of world situations. 
You have been warned!
Trending: Trump won? How did this analyst come to that conclusion?
As Written By Paul Crookston for the Free Beacon:
take our poll - story continues below
Who would you vote for if the elections were held today?
Completing this poll grants you access to Great American Republic updates free of charge. You may opt out at anytime. You also agree to this site's Privacy Policy and Terms of Use.
MSNBC political commentator Chris Matthews appeared on "Morning Joe" Wednesday and said Evangelical Christians don't understand the politics of Israel because they have "mythical" beliefs about it.
Matthews connected President Donald Trump's expected decision to recognize Jerusalem as Israel's capital to Roy Moore's Senate campaign in Alabama. He said support for Israel among Evangelicals comes from their "crazy ideas about Israel."
"Don't think this isn't related to Alabama next week. It is related," Matthews said. "Because it's the Christian Evangelicals down there with their crazy ideas about Israel which is, I don't know, mythical."
"They don't understand the situation over there, how tricky it is ethnically and tribally," he added. "They don't care because it's a religious belief. Trump is playing into that this week; you watch him."

THERE'S MORE KEEP READING HERE:
Chris Matthews: 'Crazy' Evangelicals Don't Understand Situation in Israel