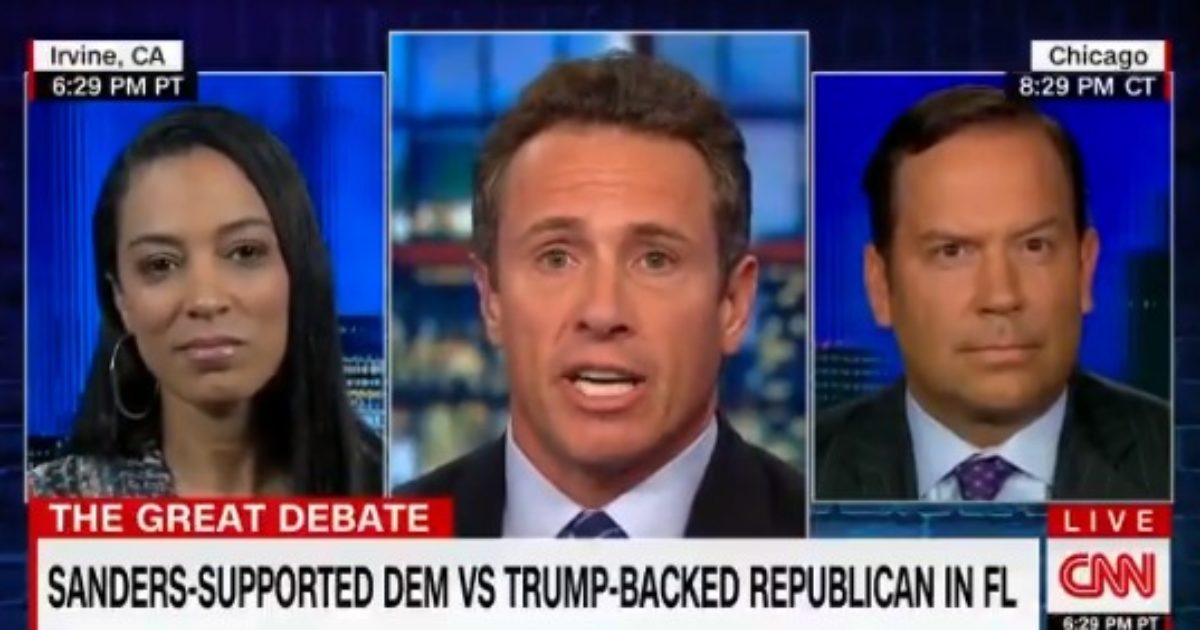 Chris Cuomo really gets into it on his show with Steve Cortes, former Hispanic Advisory Council member to President Donald Trump. Mr. Cortes calls Cuomo out over his poorly worded defense of Antifa, calling them good as compared to so-called Nazis on the Right. You will have to read the text and view the video to see that either Cuomo defended Antifa or he is a very poor word-smith for a journalist. Or, he could have meant what he actually said. You be the judge.
"I never endorsed Antifa. Don't sell BS to my face. Do it behind my back when you are better at it." @ChrisCuomo hammers @CortesSteve for suggesting, wrongly, that he had equivocated on Antifa on the show https://t.co/SvldeeDk20 pic.twitter.com/XbUWhVOAe1

— Cuomo Prime Time (@CuomoPrimeTime) August 30, 2018
Trending: Did NBC Journalist Just Side With President Trump?
As Written and Reported By James Barrett for the Daily Wire:
take our poll - story continues below
Completing this poll grants you access to Great American Republic updates free of charge. You may opt out at anytime. You also agree to this site's Privacy Policy and Terms of Use.
In mid-August, CNN host Chris Cuomo offered a partial defense of the violence-embracing Antifa because, as he put it, "fighting hate matters."
"I argue to you tonight, all punches are not equal morally," he said (video below). "In the eyes of the law, yes. But in the eyes of good and evil, here's the argument: if you're a punk that comes to start trouble in a mask and hurt people, you're not about any virtuous cause. You're just somebody who's going to be held to the standard of doing something wrong. But when someone comes to call out bigots and it gets hot, even physical, are they equally wrong as the bigot they are fighting? I argue, no. Fighting against hate matters."
On his show Wednesday, Cuomo invited on Steve Cortes, former Hispanic Advisory Council member to President Donald Trump, to discuss Trump's warning to evangelical leaders that if the GOP loses in November, there will be "violence" from the left. "They will overturn everything that we've done and they'll do it quickly and violently, and violently," Trump said. "There's violence. When you look at Antifa and you look at some of these groups — these are violent people."
When Cuomo asked Cortes if Trump should ………
WAIT! THERE IS MORE. KEEP READING AT THE LINK BELOW:
WATCH: CNN's Cuomo Melts Down After Being Called Out On His Own Show For Defending Antifa | Daily Wire