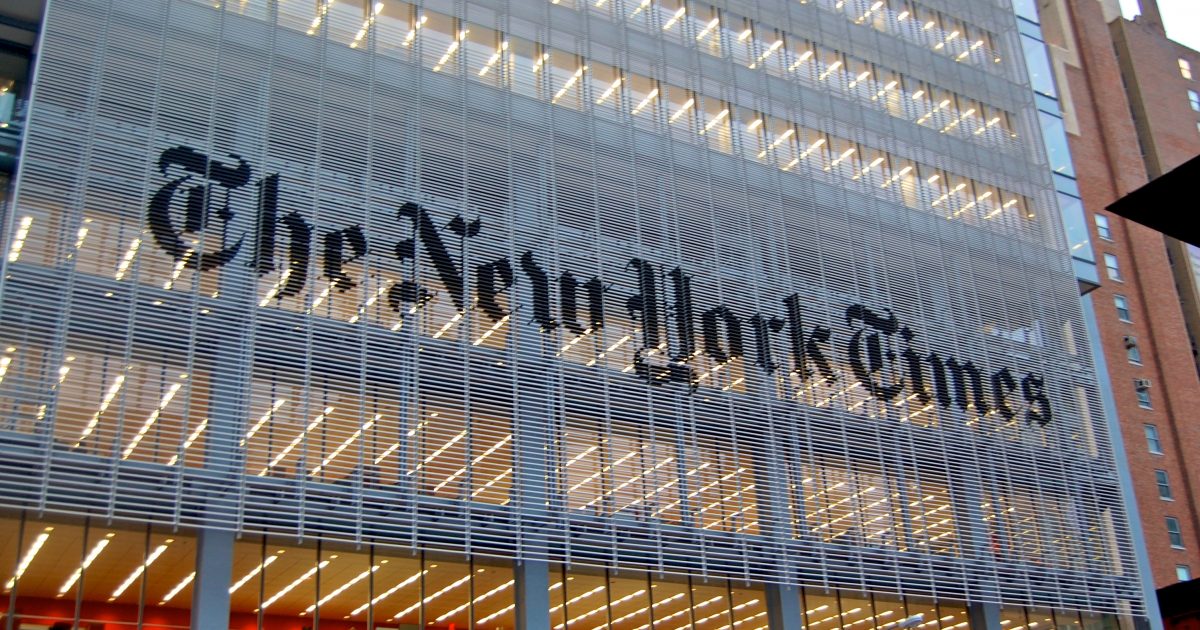 You have to love hidden videos, especially when they expose the New York Times liberal bias in their own words. Project Veritas strikes again with their ubiquitous hidden video cameras. Taking advantage of a liberal's need to brag on just how smart they are, another cocky liberal gets exposed. Watch this video and then wait for the NYT to either walk it back or sue somebody for revealing the truth. 

As Written and Reported By Project Veritas:
New York Times Senior Home Page Editor, Des Shoe, Admits Company Culture of Blatant Bias at NYT is "widely understood to be liberal-leaning…"
Trending: Former Federal Prosecutor Says 'Rosenstein Deeply Involved in Effort to Try to Remove Trump From Office' (Video)
NYT Journalists: "if we write about him [Trump], and how insanely crazy he is…maybe people will read it and be like…we shouldn't vote for him."
take our poll - story continues below
Who would you vote for if the elections were held today?
Completing this poll grants you access to Great American Republic updates free of charge. You may opt out at anytime. You also agree to this site's Privacy Policy and Terms of Use.
Calls Trump an "oblivious idiot" and Pence "f***ing horrible" Because of Religious Views.
Admits New York Times Report on "what the readers want"
"They call it the Trump bump" Says Shoe, Regarding the Influx of Subscribers Since Trump's Presidency Began
Des Shoe: "The main objective is to grab subscribers. You do that any way that you can."
(NEW YORK) – Project Veritas has released a video of the New York Times Homepage Editor Des Shoe, who was caught on hidden-camera admitting that the Times has a liberal bias and attacking President Donald Trump and Vice President Mike Pence. This is part three of their American Pravda NYT investigation.
When confronted with the notion that during the election, The Times' front page, for which she is responsible, was completely focused around Trump. She tells the undercover journalist that NYT reporters tried to influence the election with their reporting:
"I think one of the things that maybe journalists were thinking about is like…Oh, if we write about him, about how insanely crazy he is and how ludicrous his policies are, then maybe people will read it and be like, oh wow, we shouldn't vote for him."
She admits that the New York Times has a clearly defined liberal-leaning bias: "The New York Times is not…I mean, it's widely understood to be liberal-leaning. But, American newspapers are not supposed to claim a bias, they're supposed to be objective."
"So the…ahh, but the New York Times is not left?" the Project Veritas journalist asked. Shoe clarified, "I'm not saying that they're not. I'm saying it's widely, widely understood to be left-leaning…….
THERE'S MORE KEEP READING: Pravda – NY Times III