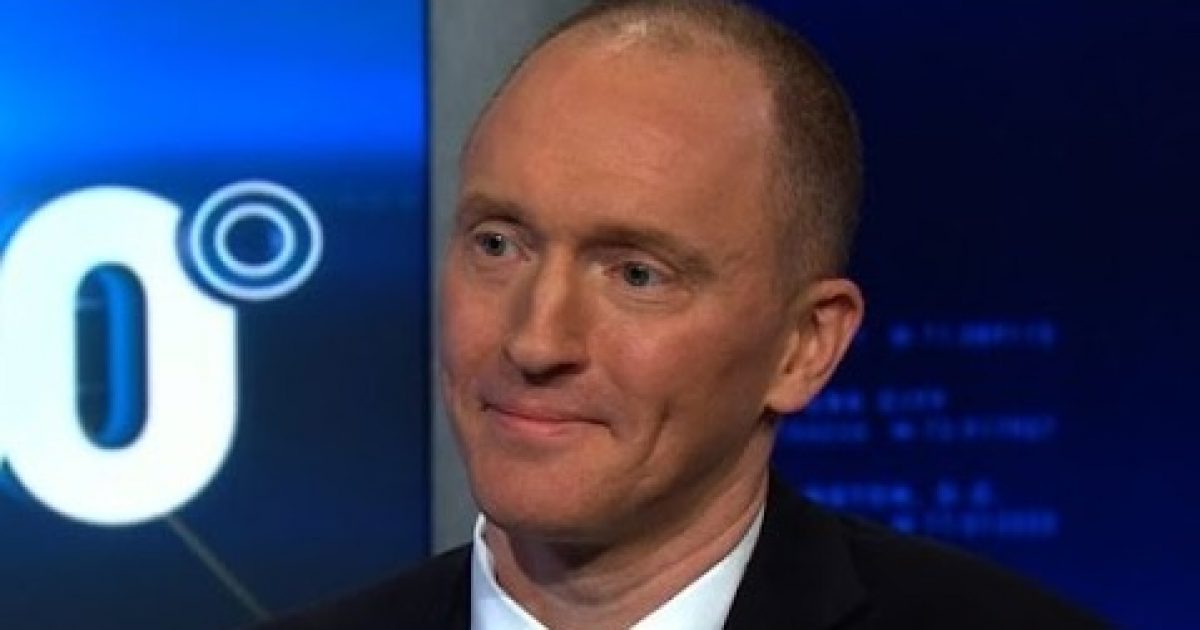 How come this wasn't widely known until now? It seems pretty viral, doesn't it? Carter Page, the one time Trump campaign former foreign policy advisor, has a somewhat eerie connection to the Clinton's.
He left the campaign after only a few months following questions about his connection to Russian officials. Later he was mentioned in the Steel Dossier.
The 46-year-old is the founder of  Global Energy Capital LLC, an investment service company based out of New York. It seems that someone in his position would have clients all over the world. He later stated to Fox News he "became a liability pretty quick" on the campaign because of his Russian connections.
Trending: Former Federal Prosecutor Says 'Rosenstein Deeply Involved in Effort to Try to Remove Trump From Office' (Video)
So what exactly is his connection to the Clinton's? Well…
take our poll - story continues below
Completing this poll grants you access to Great American Republic updates free of charge. You may opt out at anytime. You also agree to this site's Privacy Policy and Terms of Use.
As Written and Reported By Thomas Lifson for the American Thinker:
It is far from clear what Carter Page is, other than an "international man of mystery" – possibly implying the farcical tone of Austin Powers. A Twitter account in the name of "The War Economy" (hat tip: Rex Imperator) dug up a 2008 listing of speakers to be heard at the "Bard Globalization and International Affairs Program in New York City," which reproduced his claim to be an Clinton insider:

Carter Page previously worked with the Clinton Administration transition team in 1992-1993 while serving as a Research Fellow on the House Armed Services Committee (HASC) on Capitol Hill.  During his Fellowship, HASC Chairman Les Aspin was selected by President Clinton as the Secretary of Defense in December 1992.  From May 1993 – December 1994, Carter went on to serve as the Arms Control Action Officer for Counterproliferation Policy in the Nuclear Affairs and International Negotiations Branch of the Navy Staff in the Pentagon. [italics in original]
This is the first time I have learnt this about Carter Page. Why isn't it mentioned?

He worked with the Clinton Administration transition team between 1992 and 1993.

Could be something, could be nothing, but I just find it odd that this happened.https://t.co/G8LpfjnXl8 pic.twitter.com/ebOHto2kH3

— The_War_Economy (@The_War_Economy) February 6, 2018

KEEP READING THERE IS WAY MORE HERE:
Carter Page claimed in 2008 that he had worked on the Bill Clinton transition team 1992-3