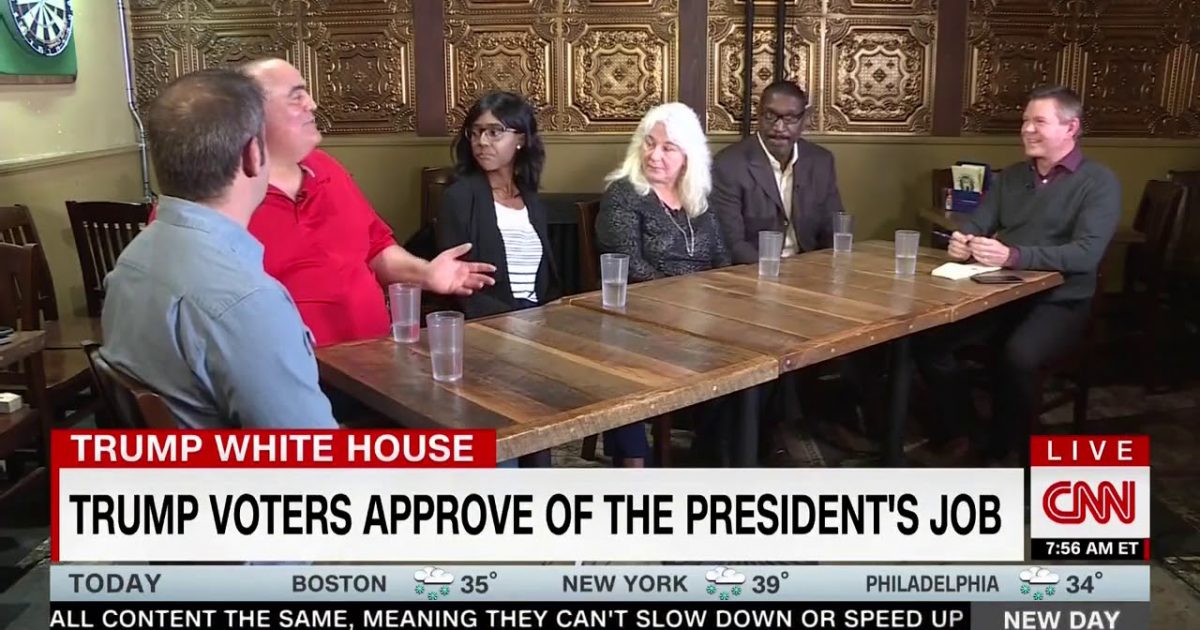 [VIDEO] CNN stunned when it went trolling for attacks on President Donald Trump and did not reel in the catch that it expected. They brought together a group of Democrat voters who had abandoned the party and voted for Donald Trump to become their President. Surely, CNN must have thought, by now these voters would have seen the error of their ways and have some good sound bites against The Donald. As you will see in this entertaining video, the responses did not go according to the script. Nothing ever does.

As Written and Reported By Ryan Saavedra for the Daily Wire:
CNN's Martin Savage interviewed a diverse group of Democratic voters from Ohio on Wednesday who all praised President Donald Trump for the things he has done during his first year in office.
Trending: President Trump Reimposes Sanctions Against Iran
The group of Democratic voters, who had all crossed over to vote for Trump during the 2016 election, agreed in their assessments of the president and on the importance of his key agenda goals, like ending illegal immigration.
take our poll - story continues below
Completing this poll grants you access to Great American Republic updates free of charge. You may opt out at anytime. You also agree to this site's Privacy Policy and Terms of Use.
When asked how they thought he was performing, the group replied, "Fantastic," "Phenomenal," "Better than I ever would have dreamt," and "He's doing wonderful, he's staying on task."
The panel did not agree with the media and the Democrats' portrayal of Trump being a racist, as they also said he does not get a fair shake from the media.
One of the members of the panel, student Justis Harrison, a minority, said she met Trump and she did not think there was any reason to even suspect that he was a racist.
"He was just the nicest person and if he was a racist as everyone paints him out to be, he could have just walked right ….
KEEP READING THERE IS WAY MORE HERE:
WATCH: CNN Stunned By What Democratic Ohio Voters Think About Trump | Daily Wire