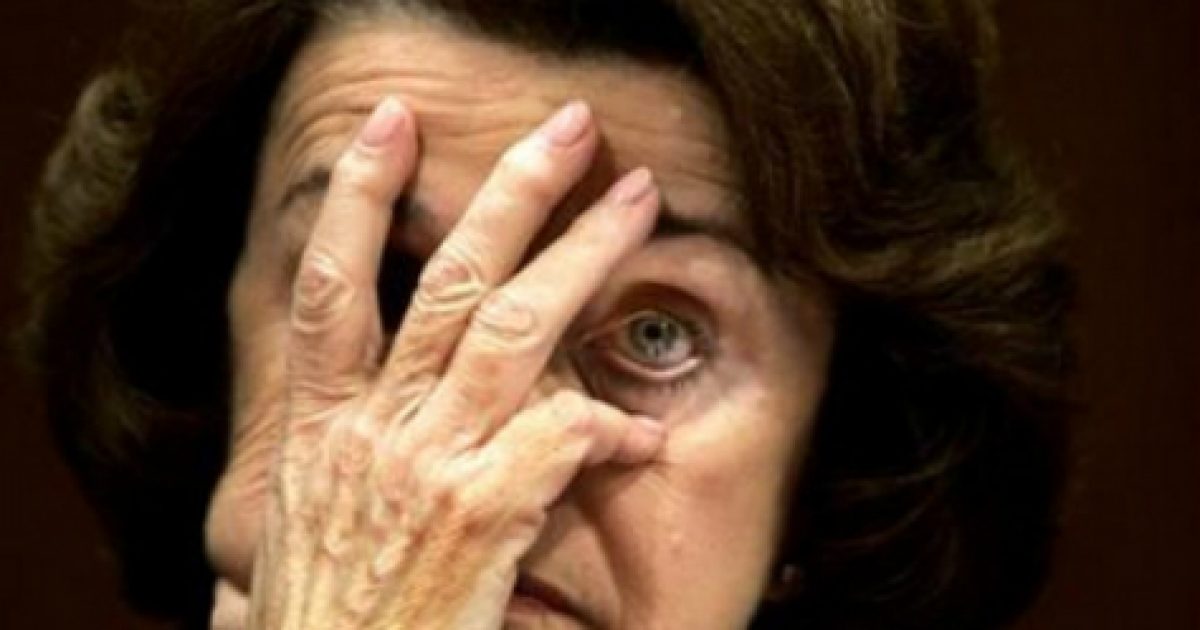 How is it that the story of a Chinese spy operating in the office of Senator Dianne Feinstein has not received any notice or coverage for five long years? Who has been sitting on this story? This spy was operating in the San Francisco office of the Senator for two decades, twenty years, before being discovered. He was her driver who had worked his way up into much more levels of responsibility in the Senator's office. You will not believe what happened to him after he was outed. Read this in amazement. Twitter users are sounding off like mad and making some very valid points missed intentionally by the media.
Dianne Feinstein's taxpayer-funded driver for 20 years was a Chinese spy. No wonder the Fusion GPS witch hunt against Republicans is being funded and directed by Feinstein's top former Senate intelligence committee staffer. Gotta deflect the blame. ~ Sean Davis, The Federalist. 
When Dianne Feinstein, chair of the Senate intelligence committee, found out she had a Chinese spy on her payroll, she let him "retire" (with a pension?) and "kept it quiet."
Trending: Putin Smacks US Congress On Russian Meddling
That's how they roll on the Hill.
take our poll - story continues below
Completing this poll grants you access to Great American Republic updates free of charge. You may opt out at anytime. You also agree to this site's Privacy Policy and Terms of Use.
Better to be compromised than embarrassed. ~ Luke Rosiak, The Daily Caller.
*CBS NEWS* is reporting that Sen. Dianne Feinstein, member of the GANG OF EIGHT, *the top Congressional Intelligence Oversight people*, had a Chinese spy right at her side for over 20 years.

— STEALTH JEFF (@drawandstrike) August 2, 2018
Reminder: On Barack Obama & Hillary Clinton's watch, ALL of the CIA's assets in China were rolled up. All of them were either imprisoned or executed or disappeared.

— STEALTH JEFF (@drawandstrike) August 2, 2018
Note what the CBS News report attempts to do here: it attempts to say that this happened "5 years ago" and this is old news.

Really? I never once heard that a member of the GANG OF 8 had a *Chinese Spy* right at her side, working with her for almost 20 years.

— STEALTH JEFF (@drawandstrike) August 2, 2018
The fact *CBS NEWS* rolled this out first to try to do damage control by spinning it as 'just a few more minor details' on an 'old story' from '5 years ago' means they knew this was coming out ANYWAY & this is an attempt to get out ahead of the revelation & do damage control.

— STEALTH JEFF (@drawandstrike) August 3, 2018
The spin gets even worse. The news report claims this spy was embedded with the Senator who was at the time chairing the SSCI because….no really…all he wanted was the inside scoop on LOCAL CA politics & Chinese politics in the San Francisco area.

Honest!

— STEALTH JEFF (@drawandstrike) August 3, 2018
If we found out in 2023 that a guy on Devin Nunes' staff in CA was a Russian spy but they kept this quiet for 5 years after Nunes forced the guy to retire, who would buy it was OK because all the guy ever had access to was local CA political info?

— STEALTH JEFF (@drawandstrike) August 3, 2018
I remember when getting caught spying for a foreign power – especially somebody like the Chinese or the Russians – got you arrested, or at the very least expelled from the US.

Every story I look at about this Feinstein staffer who was spying for China says he only lost a JOB.

— STEALTH JEFF (@drawandstrike) August 4, 2018
As Written and Reported by Ed Morrissey for Hot Air:
The US faces more threats than just Russians playing around on Facebook, and this story from earlier in the week makes it clear that some are far more significant, too. Dianne Feinstein has served as chair and vice chair of the Senate Intelligence Committee, depending on who controlled the majority, for the last nine years. As a leader on the committee, Feinstein had access to the nation's most closely held secrets. And for a significant period of that time, China had a spy literally in her driver's seat:
New details emerged Wednesday about how a mole for the government of communist China managed to stay by Senator Dianne Feinstein's side for nearly 20 years.

It happened five years ago, but additional information is just surfacing about how the Bay Area senator's office was infiltrated by a Chinese spy. …

Feinstein — who was Chair of the Senate Intelligence Committee at the time — was reportedly mortified when the FBI told her she'd be infiltrated.

Investigators reportedly concluded the driver hadn't leaked anything of substance and Feinstein forced him to retire.
Golly, they forced him to retire? The brutes! Why didn't they prosecute him for espionage? Columnists Matier and Ross in the San Francisco Chronicle report that the ….
KEEP READING THERE IS WAY MORE HERE AT THE LINK BELOW:
Oopsie: Ranking Senate Intel Democrat employed Chinese spy — for "two decades"