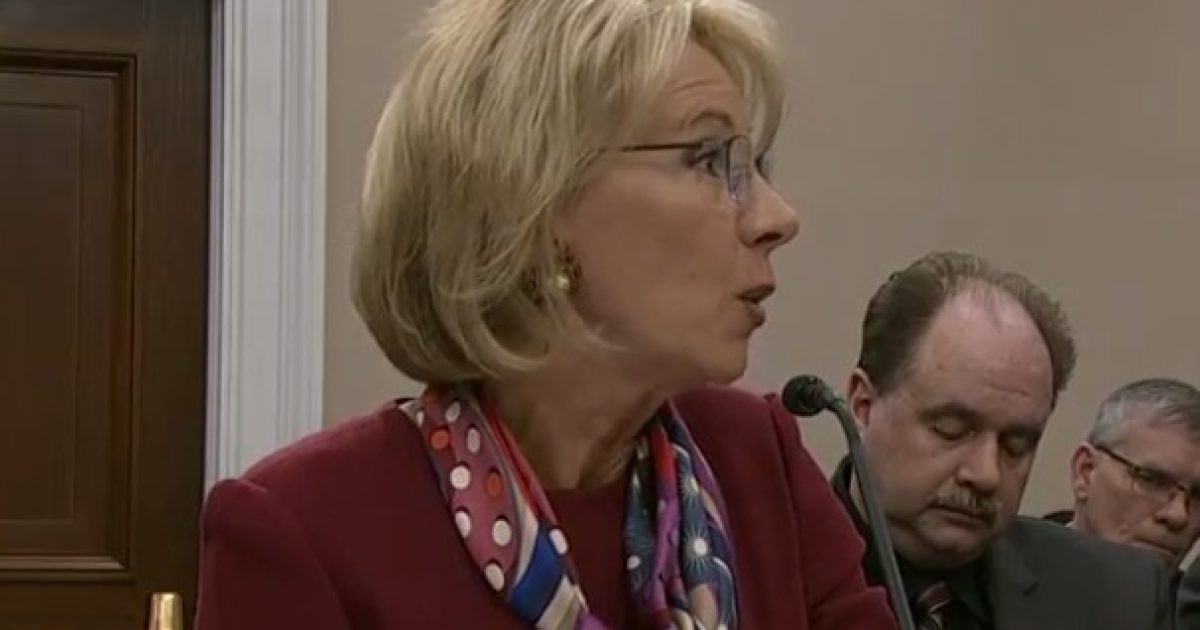 President Trump's Education Secretary Betsy DeVos gave a refreshing bit of advice to the Leadership Summit at Turning Point USA. Ms. DeVos advocates that instead of trying to cap and own the opposition, there should be a strong attempt at the exchange of ideas. TP USA has been leading the meme fight against the Left, but Betsy DeVos wants them to be better than that. Here is what she told them. 
As Written and Reported By Phillip Wegmann for the Washington Examiner:
At a moment when memes sadly double as not-so-meaningful discourse, Education Secretary Betsy DeVos urged conservative students to try engaging with ideas rather than just trolling enemies for a change.
Trending: Kanye West: 'I Am Running for President of the United States'
A good education, DeVos told the crowd at the High School Leadership Summit hosted by Turning Point USA, means "learning about ideas — and not just the ones you agree with! It's way more than putting a face or a phrase on a T-shirt."
take our poll - story continues below
Should Congress Remove Biden from Office?
Completing this poll grants you access to Great American Republic updates free of charge. You may opt out at anytime. You also agree to this site's Privacy Policy and Terms of Use.
And just like that, the education secretary dropped some badly needed knowledge on Turning Point USA. It's a lesson the young conservative group has struggled to grasp from its infancy during the Obama administration to its very apparent adolescence during the age of Trump. They have more interest in triggering liberals and drinking leftist tears than persuading opponents and winning arguments.
A little irreverence goes a long way, of course, and the wicked wit of William F. Buckley was a great driver of conservatism, for instance. But rebellion should serve more than a tribal purpose and Buckley, it should be noted, managed to build a following without selling out his principles or devolving into partisan soundbites. Charlie Kirk and his adolescent TPUSA army could take that lesson to heart.
The group began with the admirable goal of making conservatism cool. They ended up reducing all of conservatism into bad Internet memes and stupid arguments. Hence the…..
WAIT! KEEP READING. THERE IS MORE AT THE LINK DIRECTLY BELOW:
Betsy DeVos pulls a Nikki Haley, tells conservative students to actually consider opposing arguments