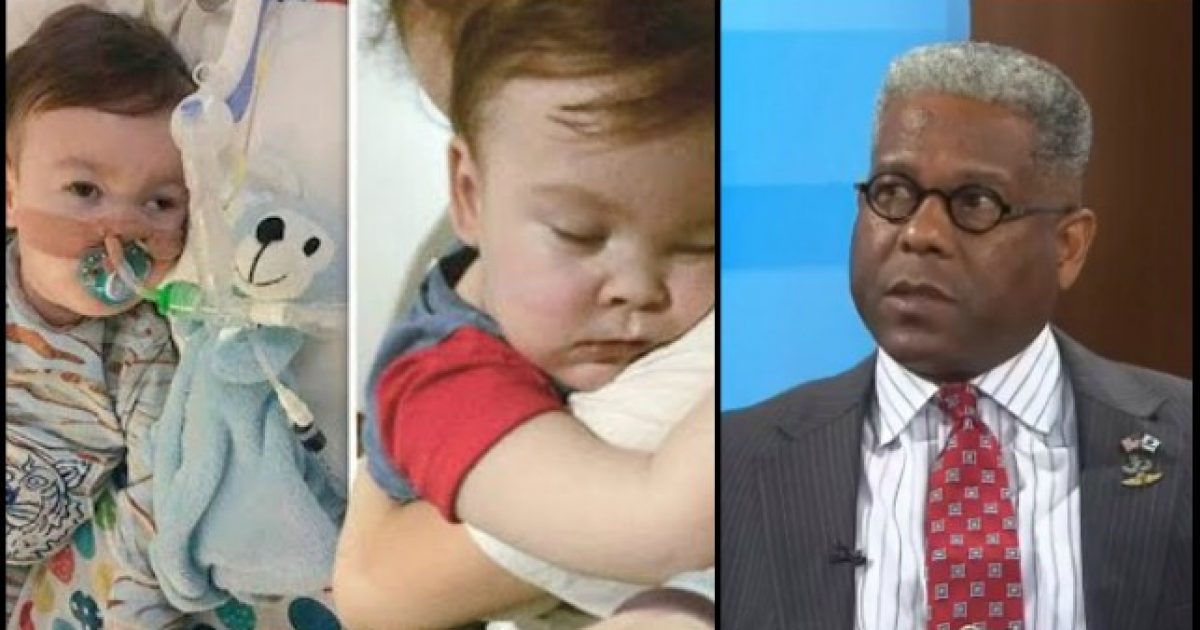 The Liberal Progressive Socialists want you to have socialized healthcare. They want the government to be the sole provider of healthcare in America. If you have not been keeping up with current events in Great Britain, you need to read this article by former Congressman Allen West and let him explain the coming disaster to you. 
(The above introduction was not written by Colonel Allen West)
As Written by Colonel Allen West:
Trending: Damning New Evidence "Appears"
Last year I shared with y'all the story of the brain aneurysm that was found my wife Angela's left eye. I informed you as to how fast the private sector healthcare system worked to discover, admit, and perform surgery on Angela, saving her life. Her three-month checkup in December revealed that the October surgery had been successful, the five-hour embolization procedure closed off the aneurysm.
take our poll - story continues below
Should Congress Remove Biden from Office?
Completing this poll grants you access to Great American Republic updates free of charge. You may opt out at anytime. You also agree to this site's Privacy Policy and Terms of Use.
Y'all also know that back in January 2016 I was diagnosed with sick sinus syndrome resulting in a dangerously low heart rate…dropping into the 20s overnight. I was scheduled for a heart pacemaker implant. These are experiences that hit close to home, and reflects the ability in America for the patient and the doctor to make the decisions for our best healthcare.
Sadly, that is not the case elsewhere.
As reported by CNSNews.com:
"The Court of Appeal in London on Wednesday rejected a last-ditch appeal by the parents of Alfie Evans to have the seriously-ill toddler flown to Rome for treatment. The panel's presiding judge, Lord Justice McFarlane, said there was no reason to overrule an earlier High Court judgment, which stated that Alfie's parents could take him home from Liverpool's Alder Hey Children's Hospital, but not take him abroad for further treatment. "This is awful for everyone concerned," Sky News quoted McFarlane as saying. "We are in the middle of palliative care plan at Alder Hey Hospital. I can see no basis that judgment was wrong." The 23-month-old, who has a rare but undiagnosed neurodegenerative disorder, has defied doctors' expectations by living for two full days after being removed from life-support on Monday night. Lawyers representing parents Tom Evans, 21, and Kate James, 20, argued that as Alfie has been granted Italian citizenship and an air ambulance is on standby, they should be allowed to take him to a children's hospital in Rome for further treatment. Medical specialists at Alder Hey have argued, successfully from the courts' point of view, that there is no realistic prospect of further treatment, beyond palliative care. Alfie and his parents are being helped by Christian Concern's Christian Legal Center."
Can you imagine the helplessness these Parents must feel, to have a court decide whether their child lives or dies? Earlier this week I posted a message on twitter asking if this is what we want in America? Do we want to have parents rendered helpless to the gods of socialized medicine? Who are these people sitting on these court benches that believe that can tell parents how they are to care for their child? The decision is not that of some arbitrary court: any loving parent will expend every means possible to fight for their child…unless you are a slave, a subject, to a socialized government run healthcare system.
When we hear delusional and deranged progressive socialists like a Bernie Sanders say that healthcare is a right, ask yourself, who is he to make that determination? If we believe someone like a Bernie Sanders has a say in our healthcare, then we are abdicating the most precious and important unalienable right that we have as endowed by our Creator…Life. See, the left doesn't see baby Alfie Evans, they see a statistic, a cost. And since the government is the "single payer" they deem themselves in a rightful position to "manage costs" which means approve or deny the expenditure of funds for a human life. For the liberal progressive left, it is all about controlling costs, who cares if its the life of a baby, my wife Angela, or anyone else. When we surrender our rights to government, when we believe that they have a rightful duty and responsibility to determine our outcomes, this is what happens.
This is the same National Healthcare System in England that recently sent out notices to individuals awaiting surgeries that their procedures would be postponed and delayed. This is the same system that failed little Charlie Gard last year, in an eerily similar case.
Yep, this is "free" healthcare, state-run, and utterly inefficient and deadly.
Now, could our system here in America be improved? Absolutely. First of all, we need proactive healthcare, and we all need to assume first line responsibility for our own healthcare…but there are always situations we cannot predict…cancers, brain aneurysms, or low heart rates. What we do not need is the usurpation of our healthcare system by the government. If you think that's great, check out the Veterans Administration hospital system. And yes, there is a reason why the left doesn't want to see any changes to the VA because that is their model for socialized, government-run, healthcare.
Ask yourself this: what if the parents of little Alfie said "bullocks" and decided to leave and catch a flight to Rome, or take a train. Would the government arrest them? See, once the government takes away your right to life, then comes your right to liberty…and as Bernie Sanders and his ilk believe, only they can guarantee your happiness…or a job.
Never forget that part of Obama's Patient Protection and Affordable Care Act, aka Obamacare, is something called the Independent Payment Advisory Board (IPAB). This is a group of unelected and hidden bureaucrats who do as the courts in England just did…make determinations on healthcare usage and financial disbursements. In essence, rendering you, the citizen, to nothing more than a formula, a cost.
I again ask the rhetorical question: is this what we want in America, bureaucrats, and courts making the determination as to who lives, and who dies? I remember how the left disparaged, denigrated, and demeaned former Alaska Governor Sarah Palin when she spoke of "death panels."
Please, someone, some progressive socialist, tell me: what do you call the courts in England who refuse to allow Alfie Evans to have a chance at life?
Socialism sucks.
NOTE: Since Colonel West wrote this post Alfie has passed away.