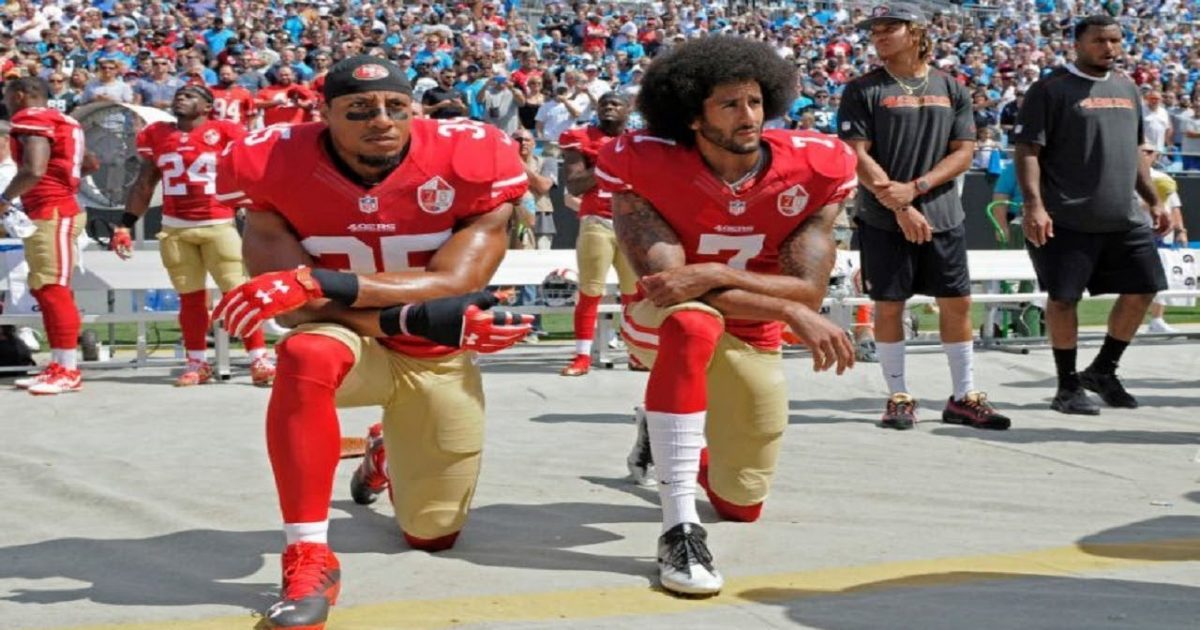 Aided and abetted by the mainstream media, the NFL kneeling protests are based on falsehoods and misrepresentations. The claims of protests leaders like Colin Kaepernick do not hold water when investigated. Here is a look at the data and it does not support the picture being painted and repeated by the mainstream media.
As Written By John R. Lott for Fox News:
The NFL players kneeling during the playing of "The Star-Spangled Banner" in football stadiums across the country are engaging in protests based on false claims and misleading media reports that give the impression that police are killing African-Americans at a rate greater than they are killing whites.
In addition, my own research shows that contrary to some claims, blacks have good relations with police they deal with in their neighborhoods.
After Colin Kaepernick, then a quarterback with the San Francisco 49ers, started kneeling during the playing of the national anthem 13 months ago, he said: "I am not going to stand up to show pride in a flag for a country that oppresses black people and people of color…. There are bodies in the street and people (police) are getting paid leave and getting away with murder."
Trending: The Liberals have a strategy to take over RED states
However, a study last year by Harvard Economics Professor Roland Fryer, who is black, concluded that for the Houston police department: "On the most extreme use of force – officer-involved shootings – we find no racial differences in either the raw data or when contextual factors are taken into account."  Unfortunately, he doesn't have the race of the officer doing the shooting and the data for just one police department doesn't allow the investigation of police policies.
take our poll - story continues below
Is Biden's Vaccine Mandate Unconstitutional?
Completing this poll grants you access to Great American Republic updates free of charge. You may opt out at anytime. You also agree to this site's Privacy Policy and Terms of Use.
Using four national databases of crime statistics representing confrontations between police and civilians in many parts of the U.S., the study did find that blacks were more likely than whites to be treated with some lower level of force by police during confrontations – such as being handcuffed, pushed to the ground or pepper-sprayed. That …….
KEEP READING, THERE IS MORE HERE:
NFL kneeling protests based on false claims and misleading media reports | Fox News