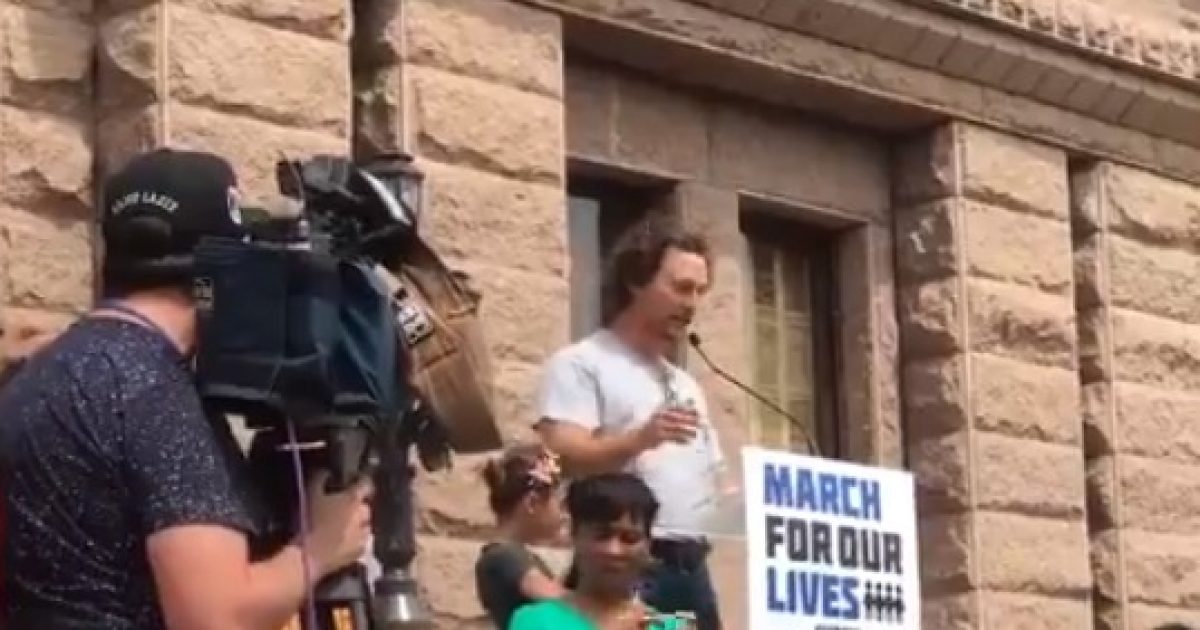 What a shame. He used to have common sense. That is what a lot of people were thinking after he appeared Saturday in a student-led anti-gun march in Austin, Texas. He called for all Americans to turn in their assault weapons. It would be very interesting to hear what his definition of an assault weapon is. If it is like all the other gun grabbers, an assault weapon is black and scary looking and goes bang bang. As usual, Hollywood celebrities think that they have a lot of influence over us. Not me. 
Some words from @McConaughey at today's #MarchForOurLives rally in Austin, where students are calling for stricter gun laws. ???????? pic.twitter.com/UyGdNuUV5N

— Mary Huber (@marymhuber) March 24, 2018
Trending: CNN Panel Bashes Hillary Clinton?
As Written and Reported By AWR Hawkins for Breitbart:
While speaking at the Austin, Texas, student march for gun control on Saturday actor Matthew McConaughey urged law-abiding gun owners to "take one for the team" and give up their "assault weapons."
People magazine quoted McConaughey as saying, "Let's ban the assault weapons for civilians. This is a no-brainer. And to my friends out there that are responsible owners of these recreational assault weapons that they use for recreation, please let's just take one for the team here and set it down. That issue saves lives."
The march was one of many sister marches held in connection with last week's Washington D.C. student march for gun control.
McConaughey also called for a ban on "high capacity" magazines, according to People, saying, "Let's restrict the capacity of the magazines. Look here: in the state of Texas, we have a three shell limit to hunt migratory birds. Do the math. You get my point."
On October 21, 2014, Breitbart News reported that the True Detective star acknowledged that Americans have a right to own guns but he….
take our poll - story continues below
Should Congress Remove Biden from Office?
Completing this poll grants you access to Great American Republic updates free of charge. You may opt out at anytime. You also agree to this site's Privacy Policy and Terms of Use.
KEEP READING THERE IS WAY MORE HERE:
Matthew McConaughey at Texas Gun Control March: Give Up Your 'Assault Weapons'