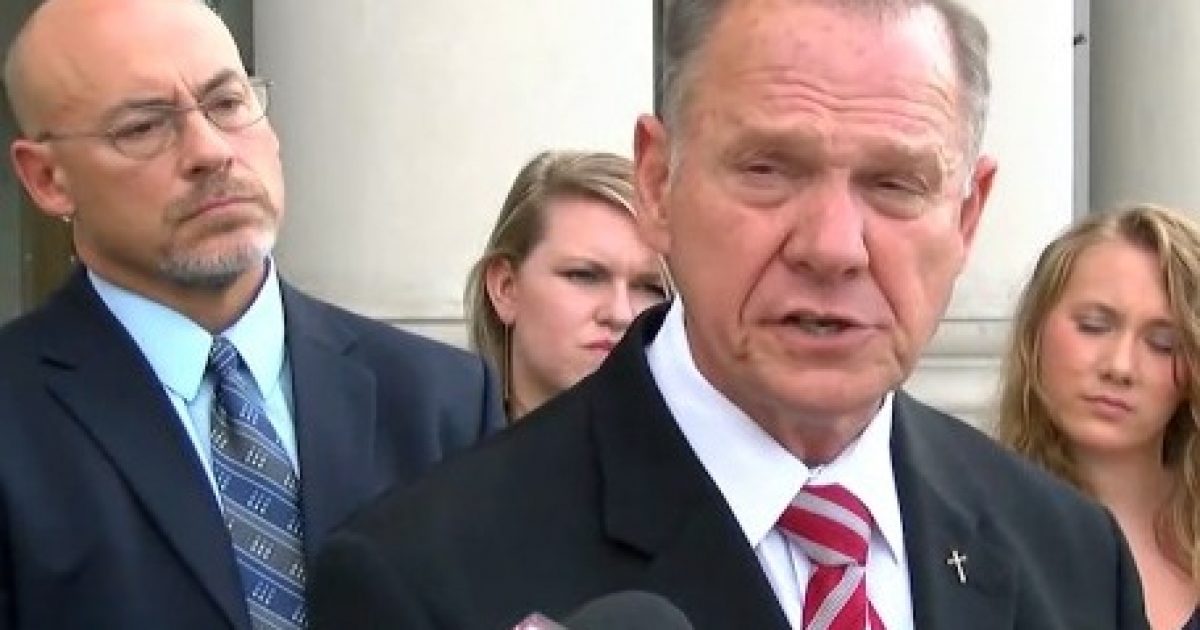 FOX news just set the political arena all a-buzz with its first poll in Alabama. Judge Roy Moore is starting off head to head with his opponent for the Senate seat, Democrat Doug Jones. This should not be happening in a State that went to Donald Trump in overwhelming fashion. There are some critics of the report, calling it highly inaccurate and with a bogus sampling base. The real fear is that this is a backlash against an inefficiently run, do nothing, GOP led Congress. It may well be that.
As Written By Rick Moran for the American Thinker:
Alabama is one of the most Republican states in the union.  Donald Trump coasted to victory in the state with 63% of the vote.
Trending: There is one clear certainty about Tuesday's midterm elections (Video)
But the Senate race in Alabama may be an indication of how much trouble the GOP is in with voters – even with voters of their own party.  A new Fox News Poll shows Republican Roy Moore and Democrat Doug Jones neck and neck with less than two months before the December 12 special election to replace Jeff Sessions, who resigned to become attorney general.
take our poll - story continues below

Completing this poll grants you access to Great American Republic updates free of charge. You may opt out at anytime. You also agree to this site's Privacy Policy and Terms of Use.

Republican Roy Moore, the anti-Republican establishment candidate, is tied at 42 percent apiece with Democrat Doug Jones in the U.S. Senate race in deep-red Alabama.

A Fox News Poll also finds that among just the 53 percent of Alabama registered voters who are extremely or very interested in the race, Jones has a one-point edge over Moore (46-45 percent).

The special election to fill the U.S. Senate seat vacated by U.S. Attorney General Jeff Sessions is December 12.

The competitiveness of the race is striking.  Donald Trump won Alabama by 28 points in 2016, yet the Steve Bannon-backed Moore defeated the president's favored candidate, incumbent Luther Strange, in the GOP primary.

"This race exemplifies the difficulty the Republican Party has now," says Republican pollster Daron Shaw, who conducts the Fox News Poll with Democrat Chris Anderson.

"There is an element of the party that has had it with the establishment, had it with politics as usual, had it with political correctness. The fissure within the party means divisive primaries……..
THERE IS A LOT MORE! KEEP READING HERE:
New poll has Jones neck and neck with Moore in AL Senate race