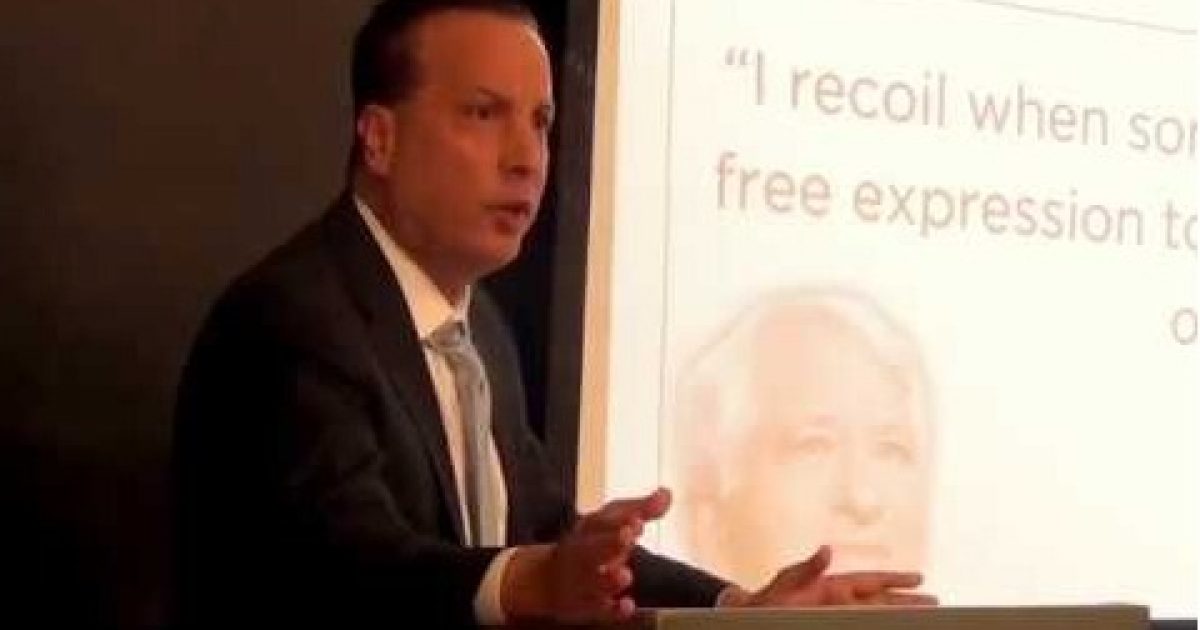 Keith Fik is a former university professor at the University of California, Los Angeles (UCLA). He was one of the most popular professors on the campus. That turns out to be a big disadvantage. He was terminated on a performance review. Let us call it what it was. It was censorship. As an advocate of Free Sppech, he was too big a threat to the facists at the campus. Read on.
As Written By Allen B. West:
Remember back when we brought you the story about the GOP senators not showing up for a hearing on free speech on our college and university campuses? Of course, the Democrats were there in full force, even though the GOP has the majority. What an incredible letdown for those students who felt that their grievance would finally be heard. And this isn't "fake news" grievance, as yours truly has experienced the progressive socialist fascism in higher education. We have another example of such, and it does appear to be only worsening.
Trending: The Liberals have a strategy to take over RED states
As reported by the Washington Examiner, "A recently fired communications professor at University of California, Los Angeles is offering a strong warning to campus GOP members: "If they can get rid of a professor like me for speaking his mind, what is stopping them from doing the same thing to all of you?" 
take our poll - story continues below
Is Biden's Vaccine Mandate Unconstitutional?
Completing this poll grants you access to Great American Republic updates free of charge. You may opt out at anytime. You also agree to this site's Privacy Policy and Terms of Use.
Keith Fink taught popular classes at UCLA and was known for his devoted defense of free speech rights. The university terminated him earlier this year for failing to pass a performance review, though Fink maintains that the review was "biased" against him, as an answer to his staunch support of the First Amendment.
Last week, Fink addressed the GOP student group at UCLA, comparing the current war on free speech to the "Red scare." In his talk, titled "UCLA's Dirty Tricks Against Conservatives," he denounced the leadership of the university. "They twist the rules, they distort the rules, they ignore the rules," he said. 

Prior to his termination, Fink was one of the more popular professors on campus. His classes often centered on free speech and the waiting lists for his classes boasted over 200 students. In addition to his support of free speech, Fink has also spoken out against micro-aggressions and safe spaces. He is open about his political opinions and the climate of his classes. He acknowledged that discussion in his classes could get intense while he was a professor and he is adamant that he never desired to be politically correct."
So, how does a popular college professor lose his position due to failing a performance review? It would appear to me that class enrollment would be a sure-fire assessment of Mr. Fink's performance. This is once again further evidence that those preaching tolerance and anti-fascism are indeed the most intolerant fascists. Why is it that the left doesn't want to have open challenge and debate in the open spaces, especially on college campuses? The answer is simple: progressive socialism is rooted in failure, pure emotion and totalitarian control that can only be proliferated through coercion, intimidation, deceit, lies and ultimately violence……….
THERE IS MORE HERE KEEP READING:
Fired university professor issues terrifying warning to campus conservatives – Allen B West